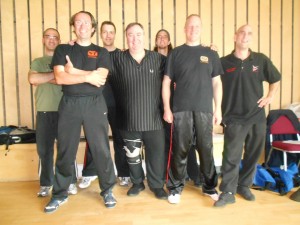 I was kind of surprised to notice that about 3 years have gone by since my first encounter with Master Steve Tappin, the founder of the Escrima Concepts style, a complete fighting system that teaches weapon based attack and defences to start with and the explores what happens when you have no weapon available.
One of  my main purpose of attending a martial arts seminar is to have the opportunity of learning, usually new things, from a master or instructor that is usually not available for local tuitions, and share with a few others his/her expertise in a session that is normally longer that the average class. However last Sunday I was particularly lucky; I attended, together with 3 other CARISMA members, a seminar organised by my friends at the Cambridge Kung Fu and I was pleased to find out that just 13 people, including us, were taking part to the event.  The real luck was having Master Tappin in person taking care directly of us for a generous amount of time and really ensuring we would get a great training.
Master Tappin's teaching style is very clear and effective and he always manages to simply explain the essence of why one thing should be done in a certain way and shows it directly, helped by his expert son Wayne.  It's shocking to see a man who had a broken back and an injured knee, somebody who struggles to stand and limps visibly but then, when demonstrating a technique, moves with the speed and the grace of the great martial artist he really is.
Weapons are tricky to handle and they open a complete new dimension about what should and should not be done while fighting.  While I don't feel my skill level has grown substantially I can acknowledge I learnt a lot of useful concepts and by repeating and rehearsing the moves my skill will improve over time.
Whether you have experience in weapon based training or, like me, passionate and curious about exploring a new art I would definitely suggest to join one of Master Tappin's seminar at your earliest convenience.