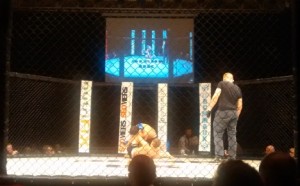 BCMMA7 was an event I could not miss.  My friend and kickboxing student Luca Senatore was fighting his first MMA bout and I had to be there.  The British Challenge Mix Martial Arts # 7 was held in Colchester on Sunday 1st June.
I have seen before a handful of MMA fights in various venues in South East England and London. I liked this event more than the others for a number of good reasons listed below:
Luca did a fantastic entry and literally dominated the first round; the fact that he lost the fight for submission on the second round did not diminish his enthusiasm and exited like a true winner and sportsman
The quality of the fights, all at amateur level, was reasonably high and just in a couple of short occasions they lost control and looked a bit like a Friday night brawl more than a sport bout between trained people
The venue was conveniently positioned with free parking, well organised with security efficient and friendly; the fact that it wasn't too crowded I guess it helped logistics
The bar is of very generous size and friendly staffed making the whole drinking experience at the event even better
The positive aspects described above made this event a fun day out with some friends however I have a few recommendations that I would like to offer to the organisers for next time:
In more than once occasion the referee let the fight going for a few extra seconds before calling the TKO; those extra seconds have caused one fighter to lose consciousness and another one to have his face more swollen than necessary. I am aware that fighters safety is highly considered in MMA fights but an even stricter regime should be applied for amateurs, particularly at their first fight.
Breaks were in my opinion too long and further delaying the show. The first "5 minutes" break lasted about 20 and we left the show at 9:40 at the beginning of the third break when the whole event was supposed to be over by 9:30.
The sound system was way too cracking and unable to cope with loud base sounds; perhaps a few extra loudspeakers or better quality ones could help.
The round girls… I have noticed dozen of female spectators and a couple of waitresses which were better looking that those girls. It should be that difficult to find to decent looking one next time.
Avoid empty tables: I guess there was an expectation to sell more VIP tickets for tables around the cage but, if sales did not go as expected I would suggest to either take out the empty tables or being nice to regulars that perhaps cannot afford the VIP ticket. Once they try VIP treatment perhaps next time they will go for it.
Once again I was impressed of the event and will be back for another one, particularly if Luca fights again.