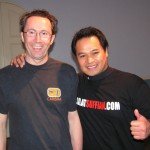 After having seen the numerous videos that Maul has on his You Tube channel I was convinced I had to meet him and try out his style. I was initially discouraged by the fact that he is always travelling to different places delivering seminars and that he is usually booked for a good part of a year in advance but, nearly by mistake I found out he was in touch with a local teacher of Silat that runs classes in Cambridge University, Lee Wilson, and so I caught the opportunity and turn up at a seminar held in Darwin College in early March.
Silat Suffian Bela Diri is a martial art that originates in Brunei and I believe it is somehow related to other Silat styles that are practiced in Indonesia and Malaysia: Maul himself admits to have little knowledge of those other styles and that what he practices and teaches is a direct lineage from his family.
The first impression of meeting Maul is warm and friendly: he appeared in the training hall greeting in a very friendly way people he met in previous occasions and welcoming in a equally warm way myself and others he was meeting for the first time.  His smile and facial expression is very reassuring and encouraging as well as his teaching style that is involving from the very first second.
Silat, similarly to other martial arts of South East Asia, is a martial art based on weapons, particularly knife: the training is usually starting by learning how to handle and defend against a weapon and moving onto bare hand fighting at a later stage.  As the seminar was open to all levels and there were people that, like me, had very little weapon experience he decided to start with the very basic drills that included the three basic knife strikes (cutting down vertically to the head, cutting across slashing the throat and stabbing horizontally toward the stomach).  Within minutes we were all practicing these basic drills and developed amazing ways of dealing with these kinds of attacks that would potentially be deadly if applied by an opponent with a live blade (all training is practiced with training knife blunt blades and edges).
The most amazing thing was seeing how Maul could handle these attacks with amazing precision and all counter attacks where at the same time conceptually simple and amazingly effective within a broad range of situations and circumstances.  The other hard to believe feature is his skill of moving incredibly slowly to demonstrate a technique that could potentially harm the opponent but then accelerating at an unexpected (even for a trained, expert martial artist) speed when showing how a techniques should be delivered in real life.
I was really amazed and totally impressed by Maul as a top martial artist and teacher as well as by his great personality and friendly manners: if you have a chance attending one of his seminars just go and try his style, technique and his unique teaching skills.