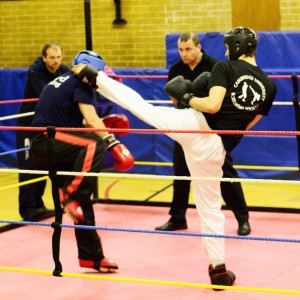 Tao Kwon do is a Korean martial art mostly based on kicks, delivered above the belt.  Having trained with several black belts of this discipline over the years I got to the conclusion that lower body flexibility is not really optional when training and practicing Tae Kwon Do.  So in my perhaps naïve interpretation I always assume that people practicing this martial art should be flexible or at least having pushed their flexibility to its limits.  Most of the experienced Tae Kwon Do practitioners which joined my club have usually a few common treats:
Typical side stance when sparring
Good combination of fast kicks from different angles
Not very good punching skills
Hardly any guard
This description is perhaps stereotypical but accurate for over 90% of the people I met in many years of experience.  Good news from my point of view as a teacher and fighters' coach is that:
They have good kicks
Stance and guard can be adjusted
Punches can be taught
So in general I am happy to train with and teach kickboxing to experienced Tae Kwon Do practitioners.
A few weeks ago I had an enquiry from someone with over two years' experience in Tae Kwon Do who I welcomed him to join us which he did.  After training with us a few times with a group of beginners, he proved to be part of the 90% I described above.  Nothing too surprising apart from his flexibility which was quite modest despite him being in his early twenties.  On his third or fourth lesson I suggested him to train with a group of more advanced students as, on that night, the beginners were practicing very basic material.
Funny enough he decided to stop his membership immediately after this lesson justifying himself he wanted to pursue his Tae Kwon Do experience. Read between the lines: he did not like getting punched and felt overwhelmed by the pressure that punching combinations caused.  This is not really the first time this happened but the surprise came to me when he prised, among the good things about our club, how good is the stretching we do as a warm up which gave him an inspiration about improving his flexibility.  I do appreciate we spend a considerable time stretching, but I just considered funny the fact that someone who did Tae Kwon Do for over two years had to realise his lack of flexibility at a kickboxing club.