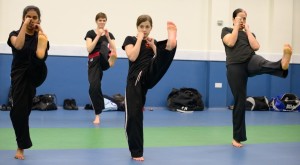 I have been training kickboxing since 1981 and in the few years before then I learnt Judo and Karate Shotokan. Over the last 20 or so years I trained a variety of traditional martial arts and appreciated some aspects of them. My approach to martial arts was always as Bruce Less suggested: "try everything, acquire and make yours what works and discard what doesn't work and the inessential". I previously wrote about my not too positive opinion about traditional martial arts and too formalised etiquette in certain clubs but I will spend today some time praising its pros.
Just a couple of days ago I was running a class with the Cambridge University Kickboxing Society. While I was teaching some basics to total beginners Phil, one of my assistant instructors, was coaching some intermediate and advance members. Among Phil's group, made of about 20 people, 7 were regular members of our club with 6-24 months experience and the rest were experienced newcomers. When, later one, I swapped role with Phil and took over the advanced class just to assess their skills I realised how poor some people's technique was, despite several years of training in other clubs and schools.  Some of them could punch and kick in a decent way but their combinations, coordination and footwork was appalling.
At the end of the class it was refreshing hearing from Phil that the footwork and execution of most beginners, after one hour with me was better of most of the advanced students we just acquired. I am not trying to undermine other coaches and instructors' work; over the years I just realised how important are the very few basic, traditional exercises we do which apply to footwork, stances and coordination of arms and legs to ensure active and passive guard during both attack and defensive work. People who have never seen regimental training (what in Japanese would be referred as Kihon) simply have no mind set to simply de-construct techniques and postures in a way that they can be easily learnt, adjusted or corrected.