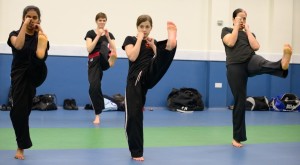 Martial arts, particular traditional ones, are often based on rules which resemble military regimes.  In many Dojos it's common to refer to the master/instructor/coach as "master", "sensei", "sifu"; in my opinion this is often excessive and encourages an unnecessary distance between students and instructors.  I always allowed my students to call me by my first name and establishing a collaborative role where I share my knowledge and experience.  At the same time I make sure they respect me for my experience and ultimately my position of authority within the club they have decided to join.
I always aimed at running a club which is accessible for anybody to join, train and improve their technique and overall skill.  I enjoy training with instructors and advanced people that help me challenge my technique and fitness; at the same time I also train regularly with beginners and intermediate students so they can experience first-hand my teaching and feedback.  All of my instructors are encouraged to do the same.
I am aware of many so called fight clubs, particularly boxing clubs, where there is a very strict hierarchy about who can train or be trained by whom.  In those environments only the key fighters have access to high quality tuition while the others, inexperienced or just not good enough, have to accept being considered less valuable students.  This, in my opinion, might discourage potentially good fighters who did not yet get the chance to move up the skill ladder.
Of course meritocracy has to an important role to play and it naturally does.  Students who train more often, attend to more lessons, tournaments and become more involved with all club's activities are automatically more visible.  They get more exposure to key lessons and more naturally get chosen as training partner by the most experienced students and instructors; the more this happens and the better they get, a very natural selection.  So if you are an advanced or intermediate student who is already getting the right kind of attention from instructor you are in the right place.  At the same time if you feel a bit invisible within your club and would like to change this you should try to get more exposure toward the better part of the class; train more often, try to learn better techniques and keep practicing; it's a long journey.