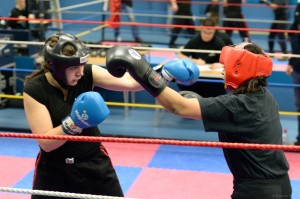 A kickboxing bout can be regulated by different rules and levels of contact; what seems to be growing fast and well applying to amateur athletes is the so called Light Contact or Light Continuous. In my experience the term light probably had a different meaning when this style was first defined 20 years or so ago. Light contact was originally created as a softer version of a continuous full contact bout but, in 2013, light contact kickboxing is not as light as its name suggests.
To the contrary to what inexperienced people might assume winning a light contact fight is not about knocking somebody down but applying a strategy that aims at scoring more points than your opponent. In fact a KO victory is just possible by accident and anybody trying to finish a fight early by KO, as it could be applied when fighting in other styles, will be subject to disciplinary actions.
In light contact the winning strategy is about keeping a nice level of pressure with attacks that actually score and a guard/defence that avoids much scoring from your opponent. Judges will score all attacks landing in scoring areas but also take into account who is actually attacking most and who is dominating the fight. It is always preferable for you to set the pace and the style of the bout you are fighting but, if your opponent starts very aggressively since the beginning and tries to impose his/her strategy, you might need to quickly control his/her enthusiasm.
As we are talking about kickboxing fight we should remember that a good looking fight should have attacks that combine and alternate both punches and kicks.
Here a few strategies that could help you winning:
Machine gun attack
If you have lots of stamina you could simply keep attacking and putting positive pressure on the opponent; if you are facing a less fit opponent he/she will soon close into a defensive guard and you'll have an easy victory. If your opponent is as fit as you or more you might need to adapt your strategy to one of the next ones.
Blitzing
It a simple strategy based on keeping the distance and launching attacks based on combinations of kicks and punches; you blitz into reaching distance, hit a few times possibly scoring once or twice and get back out of range. If you manage to impose your own attacks and force the opponent to accept your strategy you will look as the dominating fighter in the ring and, as long as you land a few scores per round while keeping a decent guard, you will win. This second strategy works well if your fitness is good but not enough to implement and maintain the machine gun attack
Wait and counter
This strategy requires excellent timing skills so that you can intercept or anticipate your opponent's attacks and score while he/she is attacking you. You should have enough speed to catch them unprepared and enough power to disrupt their strategy when they are trying to implement a machine gun or blitzing attack. This strategy could be the one requiring the least amount of stamina but you should never underestimate how fit and powerful your opponent might be and where he/she will be pushing the fight.
I cannot think of a fight where just one of this strategies could be applied on its own; also you can make all plans of this world but if they do not fit with your opponent you must be prepared to have a plan B.